Different.
* BOOK NEWS *
Apple's iBookstore experiences huge growth
Southern Review of Books
Samuel discusses a writer's need for "more"
Samuel Park's Daily Pep Talks For Writers
Tessa
gave me the One Lovely Blog Award. Thank you so much!
* SPUNKY NEWS *
Thank you to everyone who left such encouraging comments on Tuesday! Sorry, Spunky has never been so bummed and drained and in need of encouragement.
I will be taking a full week off from blogging. The Sunday Sillies will post, as will an article about believing in ourselves on Wednesday, followed by another Sunday Sillies. (I can't let you guys go without any LOL Cats!!!) Aftet that, I hope to return refreshed and renewed. So forgive my absence...
The newspaper had a nice writeup about my visit last week to Quarter Moon Books
Pender Chronicle
I also guest posted at
At Home With Books
, talking about Book signings. Please feel free to log in and share your thoughts...
Also, for anyone with a Nook, Kindle, iPad, or wants to download from my publisher (Dancing Lemur Press LLC) or Smashwords - my eBooks are now only $2.95. (And only .95 for Book I!)
* BOOK BLOGGER EXTRAORDINARIE! *
Eleni at
La Femme Readers
is just such a genuine and friendly young lady. Send her an email and you'll get a real reply! Considering how many followers she has right now, it amazes me that she is still so down to earth and personable. I just adore this girl!
In her words...
"My name is Eleni, I'm 25 years old and I live in New York. I graduated with a BA in English and I am hoping to break into publishing one day as a publicist. I am an avid reader who is never without a book. I love blogging and meeting new people who share the same passion."
Please visit her today!!!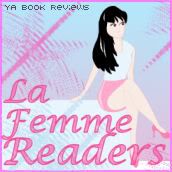 * CAPTION WINNER *
Watery Tart from
Confessions of a Watery Tart
for her true LOL Speak.
"SURPRIZE! I Eated present. Now I iz present."
* THEME SONGS *
Jessica Brooks at
My Thoughts Exactly
prodded me when I mentioned that my characters all had their own theme songs. Okay, Jessica, here they are! (And rather than post videos, which no one has time tp watch, I just selected lyrics. But for me, the music itself matters most.)
BOOK I - Lori
Her song is a mix - I'd made a mix of 80's and 90's love songs and they all applied to Lori. If I had to pick one though...
Space Age Love Song - Flock of Seagulls
I saw your eyes
And you touched my mind
Although it took a while
I was falling in love
BOOK II - Sarah
Before EVERYBODY was playing this song, it touched me as Sarah's song...
Bring Me To Life - Evanescence
How can you see into my eyes like open doors
Leading you down into my core
Where I've become so numb without a soul my spirit sleeping somewhere cold
Until you find it there and lead it back home
(Wake me up)
Wake me up inside
(I can't wake up)
Wake me up inside
(Save me)
Call my name and save me from the dark
(Wake me up)
Bid my blood to run
(I can't wake up)
Before I come undone
(Save me)
Save me from the nothing I've becomes
BOOK III - James
James is such a tragic character...
What Do I Have To Do? - Stabbing Westward
I know exactly what you're thinking
But I swear this time I will not let you down
I'm not as selfish as I used to be
That was a part of me that never made me proud
Right now I would try anything
Anything at all to keep you satisfied
God I hope you see what loving you would do to me
All I want is one more chance, so tell me…
What do I have to do to make you love me?
BOOK IV - Mike
Mike had two songs, both from Finger Eleven. And as he played a guitar, I could picture him strumming both tunes...
Thousand Mile Wish - Finger Eleven
We climb a little further
Cause there's nothing we can't get around together
Further gets colder until nothing was all that I saw around
So we stay until the ground
That we can't come down from splits us away
Maybe stars know why we fall
I just wish they were thinking out loud
Oh, I could wish all night
One Thing - Finger Eleven
Restless tonight
Cause I wasted the light
Between both these times
I drew a really thin line
It's nothing I planned
And not that I can
But you should be mine
Across that line
If I traded it all
If I gave it all away for one thing
Just for one thing
If I sorted it out
If I knew all about this one thing
Wouldn't that be something
BOOK V - Heather
Heather needed something with passion...
Passion - Stream of Passion
This feeling's rushing through me, and again,
I'm willing to surrender,
To the violent notes that spin around.
Id give it up for you.
This feelings clinging to me, and again,
I'm willing to surrender.
I could lose my breath but even then,
I'd give it up for you
* PHOTO OF THE DAY *
My very first Albuquerque Balloon Fiesta - how I miss ABQ!!!